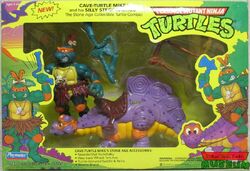 Ah, yes, the primitive past is ripe with radical reptiles. Just take a look at Cave-Turtle Mike and his
Silly Stegosaurus
. These primitive pals are real partyin' reptiles of prehistoric times. Maybe that's how today's Turtle Teen
Mike
got so good at bein' a party dude! And the party's never over with Cave-Turtle Mike and his Silly Stegosaurus, cuz they're ready for rock-bustin' action! Cave-Turtle Mike carries his Neanderthal
nunchaku
for critter-bashin'. And if th fossillized
Foot
try to steal any raw rhino meat, Cave-Turtle Mike's armed with his way-back whack 'em axe. And when the battle's over, Cave-Turtle Mike grabs hold of his Turtle-textured reins, sits high in the Stone Age saddle and rides off to meet up with his other primitive pals!
Community content is available under
CC-BY-SA
unless otherwise noted.