The Camelot is a medieval castle according to the British legends of King Arthur.
Camelot in mentioned in the supplement Mutants in Avalon published by Palladium Books for Teenage Mutant Ninja Turtles & Other Strangeness.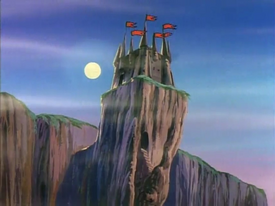 In the episode "Shredder's New Sword" of the 1987-1996 TV series, the final battle between King Arthur's forces and Shredder's takes place outside the castle.[1]
In the episode "Turtles in Time" of the 2012 TV series, when sent back into medieval England, the Turtles find signs giving directions to Camelot, Avalon and Savanti's tower.
References
Community content is available under
CC-BY-SA
unless otherwise noted.