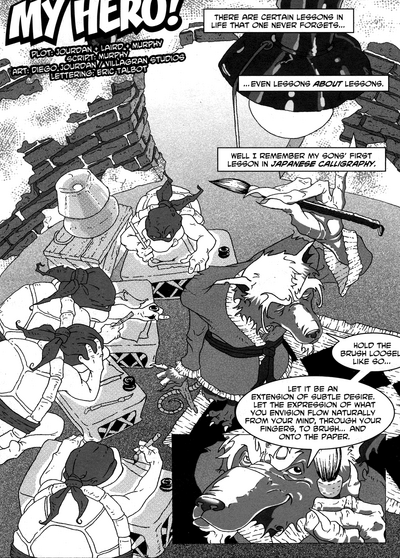 Calligraphy is the practice of writing as a visual art. In stories of the Teenage Mutant Ninja Turtles franchise, calligraphy has occasionally been shown being taught as an art form alongside ninjutsu studies. Japanese calligraphy in particular involves writing Japanese characters on paper with an ink brush.
Mirage
In the Mirage continuity story My Hero!, Hamato Splinter taught Japanese calligraphy to the Turtles when they were very young. During the particular lesson portrayed in the story, Leonardo quickly excelled at the art, while Donatello's brush strokes were deemed too angular, and Raphael had too much unfocused frustration to complete his assignment, while Michelangelo completely ignored the assignment, using the calligraphy brush instead to start drawing comics.
IDW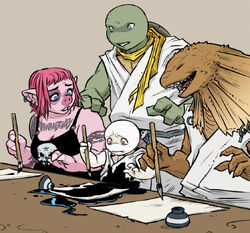 In Teenage Mutant Ninja Turtles #104 of the IDW continuity, the Turtles made plans to set up a new dōjō to teach not only martial arts and self-defense classes, but calligraphy and floristry as well. In Teenage Mutant Ninja Turtles issue 105 (IDW), the Splinter Dōjō opened in Mutant Town, with one of the classes being calligraphy taught by Jennika.
Community content is available under
CC-BY-SA
unless otherwise noted.