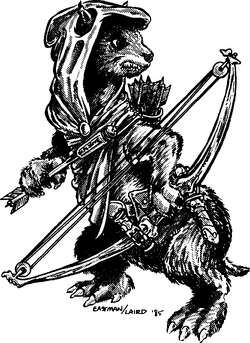 For the RPG scenario itself, see Caesar's Weasels.
 YOU'RE NOT ON 
 NICKTOONS 
 ANYMORE! 

Some TMNT stuff really isn't for little kids.
In Teenage Mutant Ninja Turtles & Other Strangeness scenario Caesar's Weasels, the eponymous Caesar's weasels are a trio of mutant weasel subordinates of Caesar, the mutant wolverine who freed and raised them. The weasels' names are Tork, Hambone and Lyssis, and they are all 15 years old.
| | |
| --- | --- |
| | This article is classified as a placeholder, as it does not have enough information to even be classified as a Stub. This is not in accordance with TurtlePedia policy and must be expanded upon to be in compliance. |
Trivia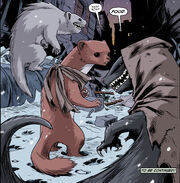 In the IDW continuity, Old Hob's weasels are a very similar trio of mutants first appearing in-story in early 2020 in Teenage Mutant Ninja Turtles issue #102, but were first announced and shown in late 2019 in the solicit for issue #103, and their similarity to Caesar's weasels from 34 years previous was quickly recognized. Incidentally, this noted similarity also drew attention to the striking similarities which Hob's character design, introduced in back 2011, had always shared with Caesar himself.