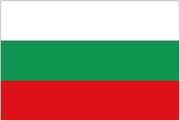 Bulgaria
(Bulgarian:
Bǎlgariya
) is a republic on the Balkan Peninsula in Southeastern
Europe
on 
Earth
. The capital is Sofia.
Teenage Mutant Ninja Turtles appearances
Parts of the episode Turtles on the Orient Express of the 1987 animated TV series are set there, as the Orient Express cars rush across the railway tracks, extra-powered by the supercharger.
Community content is available under
CC-BY-SA
unless otherwise noted.