"Booyakasha" is a catchphrase that is common among the Ninja Turtles, but mostly used by Michelangelo, in the 2012 TV series. It replaced the classic "Cowabunga", first used in the 1987 TV series. It is pronounced /buːˌjɑː.kɑːˈʃɑː/ (boo-YAH-kah-SHAH).
History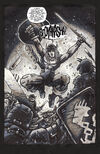 The catchphrase also appeared in the IDW comics' Teenage Mutant Ninja Turtles Annual 2014 by the warrior Baltizar.
Etymology
According to Greg Cipes in an interview, "Booyakasha!" is an Irish saying that means "High Glory and love to the very moment." It is likely derived from "buíochas", which means "glory to", or its archaic version, "buidheachas".
"Booyakasha" as its own word was originally coined by comedian Sacha Baron Cohen as part of his of satirical fictional persona Ali G. Ali G's use of "Booyakasha" is a faux Jamaican Patois expression of triumph (some Jamaican Patois words have Irish base origins, so the two origins may be compatible).
Trivia
Community content is available under
CC-BY-SA
unless otherwise noted.