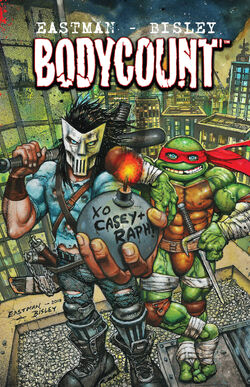 HEY, KID, YOU'RE 
 A LONG WAY 
 FROM NICKTOONS! 

Some TMNT stuff was always meant for grownups.
Bodycount is a four-part story arc in the Mirage continuity. Unusually, the series switched titles and publishing labels partway through the arc. Casey Jones and Raphael issue #1 was published in October 1994 by Mirage Studios, but the remaining three parts were published by Image Comics as Bodycount issues #2 in April 1996, #3 in May 1996, and #4 in July 1996. This switch coincided with the winding down of Mirage's publishing operations at the time after the end of TMNT volume 2 and the beginning of TMNT volume 3 under the Image Comics label.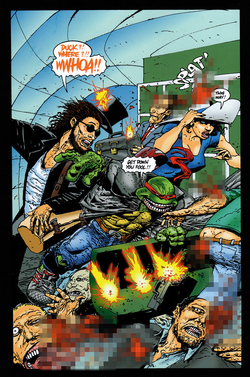 Bodycount is relatively remarkable among official Teenage Mutant Ninja Turtles publications for its extremely violent content. Unlike most of the Mirage continuity, which is chiefly for adult readers but usually also considered appropriate for teenage readers, Bodycount is marketed for adults only. All four issues were later reprinted together in 2018 by Top Shelf Productions, an imprint of IDW Publishing which publishes adults-only comics.
Unlike the Image continuity itself, Bodycount is generally regarded to be within the Mirage continuity based on Peter Laird's opinion that, unless otherwise indicated, Mirage stories written by Mirage Studios' own staff (such as Bodycount writer Kevin Eastman) are counted as part of the Mirage continuity, while the Image TMNT comics and most of the Guest Era are specifically excluded from it.
Credits
| | |
| --- | --- |
| | This article or section is incomplete. Some information regarding this topic has not been added. Please help TurtlePedia by finishing this article. |
See also
Community content is available under
CC-BY-SA
unless otherwise noted.