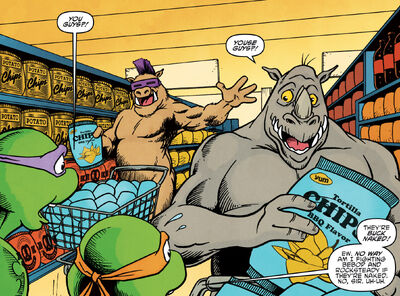 YOU'RE NOT ON 
 NICKTOONS 
 ANYMORE! 

Some TMNT stuff really isn't for little kids.
In Teenage Mutant Ninja Turtles Adventures by Archie Comics, Bebop and Rocksteady are two former members of a New York City street gang.
After being defeated by the Turtles and later being mutated by Shredder in Heroes in a Half-Shell! Part 1, they are once again defeated by the Turtles.
They spend the upcoming episodes with Shredder, trying to defeat the Turtles and eventually failing. At the end of The Final Conflict, Cherubae uses the Turnstone to send them to one of the Eden Worlds.
They later return to Earth in Raw Power, flying with Krang and Bellybomb in a spacecraft as Krang and Bellybomb escape Morbus.
Following a defeat by the Turtles, Bebop and Rocksteady leave Earth in the same spacecraft. After dropping off Krang and Bellybomb on Morbus, Bebop and Rocksteady return to the same Eden World.[1]
While sometimes fighting with baseball bats and knives, they usually carry the Stun Lasers.
References
Community content is available under
CC-BY-SA
unless otherwise noted.