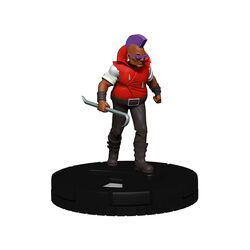 Bebop is a Heroclix figurine in the Shredder's Return set, available in the set's Fast Forces pack.
Attributes
Foot Clan, Purple Dragon, Animal
Powers and abilities
What's this mutagen stuff do again, boss? At the beginning of the game, you may place adjacent a Warthog bystander. When the Warthog is KO'd by an opponent's attack, for the rest of the game Bebop can use all of its powers and modifies his combat values by +1.
Run and gun (Running Shot)
Don't make me chase you down (Sidestep)
Stick and move (Energy Shield/Deflection)
Kill them before they can touch you (Combat Reflexes)
The animal takes over (Battle Fury)

Point value: 40
Universe: Teenage Mutant Ninja Turtles (1987 animated series)
Warthog
Powers and abilities
Flurry
Blades/Claws/Fangs
Toughness

Point value: 0
Community content is available under
CC-BY-SA
unless otherwise noted.