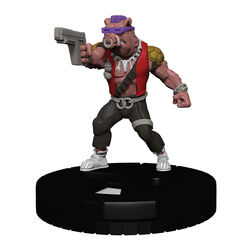 Bebop is a Heroclix figurine in the Heroes in a Half Shell set.
Attributes
Foot Clan, TMNT Villain, Animal, Brute
Powers and abilities
So my part of the plan was what? If a friendly character named Shredder is on the map, Bebop can use Willpower. Friendly characters named Shredder and Rocksteady can use Enhancement, but only to modify characters named Bebop and Rocksteady.
Uh... did I screw up again? Once per turn when Bebop misses an attack, put an Incompetent Idiot token on this card. Give Bebop a free action and remove 2 Incompetent Idiot tokens to heal another friendly character that shares a keyword 2 clicks.
*SNORT* (Running Shot)
I'll get you! (Charge)
What does "cretins" mean? (Sidestep)
Blow everything up (Energy Explosion)
Mutated strength (Super Strength)
Toughened hide (Invincible)
"Imbecilic buffoons" means he likes us (Toughness)
Another plan next week? (Regeneration)
Hog wild (Battle Fury)

Point value: 80
Universe: Teenage Mutant Ninja Turtles (1987 animated series)
Community content is available under
CC-BY-SA
unless otherwise noted.