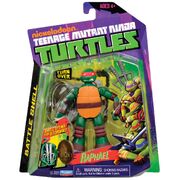 Shelled and ready!
Description
Carrying their ninja arsenals in their indestructible Battle Shells, these Turtle teens have got any mutant monster they meet already beat! Pop open their shells for a weaponized surprise.
Accessories
2 Sais
2 Shuriken
2 Jitte
Articulation
Ball Joint Neck
Swivel Hinge Shoulders
Swivel Hinge Elbows
Swivel Hinge Hips
Swivel Hinge Knees
Swivel Wrists
Notes
These new versions of the turtles are more cartoon accurate than the previous basic figures
Gallery
Community content is available under
CC-BY-SA
unless otherwise noted.