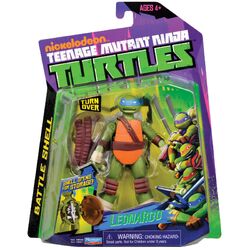 Shelled and ready!
Description
Carrying their ninja arsenals in their indestructible Battle Shells, these Turtle teens have got any mutant monster they meet already beat! Pop open their shells for a weaponized surprise.
Accessories
Articulation
Ball Joint Neck
Swivel Hinge Shoulders
Swivel Hinge Elbows
Swivel Hinge Hips
Swivel Hinge Knees
Swivel Wrists
Gallery
Community content is available under
CC-BY-SA
unless otherwise noted.