The Atlantic Ocean is an ocean on the Earth, with North America and South America on one side, and Europe and Africa on the other side, and some islands within the ocean.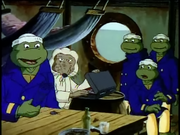 In the 1987–1996 animated television series, the "Vacation in Europe" sideseason begins with the turtles and Splinter travelling across the Atlantic Ocean by boat and suffering from severe seasickness in the episode Tower of Power.
Some TMNT Adventures and Mutanimals stories are also set there.
In the Manhattan Project videogame, the second level has the turtles riding on surfboards on North Atlantic Ocean waters in a south-north direction from Florida to Manhattan.
Community content is available under
CC-BY-SA
unless otherwise noted.