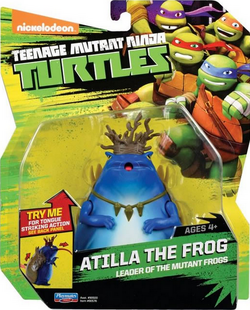 Leader of the Mutant Frogs!
Description
The leader of the mutant frog family, Atilla is on a mission expand the reptiles' power. By obtaining the mutagen that April's "Mom" dropped in the forest, he has a plan to build his own mutant frog army. His hatred for Turtles and humans cause him to try and eliminate April, Casey, and the four brothers. However, after a dangerous fire threatened the frog fortress and his mutant frogs, the Turtles, April, and Casey save them, and the alliance between Turtle and frog was born.

Weapon: Powerful tongue
Team: Ninja Turtles
Articulation
Retractable Tongue
Swivel Hinge Shoulders
Accessories
Notes
His name is misspelled on every instance of it being used on the figure's packaging and marketing.
Playmates' official description mentions the punk frogs as reptiles, though frogs are actually amphibians.
Playmates' website listed a different reading for his weapon category, stating: No weapons. Ghengis does all his fighting.)
Gallery
Community content is available under
CC-BY-SA
unless otherwise noted.