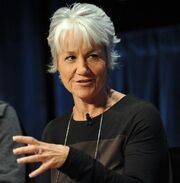 Andrea Romano (born 1955; 62 years old) is a multi-award winning casting and voice director, best known for her work in the DC Animated Universe, Animaniacs, Tiny Toon Adventures, Teen Titans, Avatar the Last Airbender, The Boondocks, multiple direct to video DC films, Ben 10: Alien Force and Ultimate Alien, Batman The Brave and the Bold and Avatar: The Legend of Korra. She sometimes voices minor roles on her projects.
Andrea is the voice director for the 2012 TV series and the voice of the Friendly Computer.
As of July 31, 2017 she has retired due to her diagnosis of Optic neuropathy, which has rendered her blind in one eye.
External Links