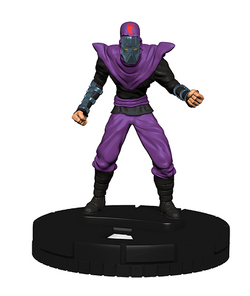 Alpha One is a Heroclix figurine in the first set release.
Attributes
Foot Clan, Robot, TMNT Villain
Powers and abilities
Orders received... and ignored (Sidestep)
Dimensional Displacement Drive: Give Alpha One a power action and choose a character within 5 squares. If that character is friendly, it must have the Robot keyword. If that character is opposing, it can't have the Robot keyword. Place that character adjacent.
Advanced wave modulator (Pulse Wave)
Earth shall become a planet of robots! (Toughness)
Rebuild, rebuild (Regeneration)
Foot Soldiers respond to my thoughts (Regeneration)
Hey, this one can talk! (Perplex)

Point value: 60
Universe: Teenage Mutant Ninja Turtles (1987 Animated Series)
Community content is available under
CC-BY-SA
unless otherwise noted.