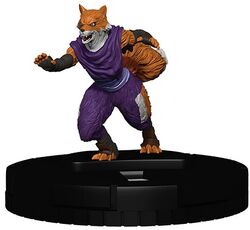 Alopex is a Heroclix figurine from the fourth set, Unplugged. It's supposed to be based on her 2012 animated series incarnation, but is just a redeco of her previous Heroclix release.
Attributes
Animal, Assassin, Martial artist
Powers and abilities
Cursed Blades of Vengeance: When Alopex hits an opposing character, give them a Curse token. // Characters with one or more Curse tokens modify attack -1, and all attacks made by those characters that misses all targets becomes a critical miss.
Catch a tiger by the tail: At the beginning of the game, choose an opposing character. Alopex modifies attack +1 when attacking the chosen character and modifies defense -1 when attacked by the chosen character.
Faster than the eye can follow Charge, Flurry
I'm going to win... we all know that (Hypersonic Speed)
I'll be his greatest warrior (Precision Strike)
I'll fight my way back to his side (Blades/Claws/Fangs)
What do you want? (Super Senses)
Stick with weapons, I'll fight blind... Deal? (Combat Reflexes)
Shh, shhh... (Shape Change)
...You talk too much (Probability Control)

Point value: 90
Universe: Teenage Mutant Ninja Turtles (2012 animated series)
Community content is available under
CC-BY-SA
unless otherwise noted.