Line 6:
Line 6:
 
 
 

== Trivia ==

 

== Trivia ==

−

* Technically, it cannot be assumed that Aka's trailer is a location occupying normal space, as Aka's visiting brother, the Rat King, was also playing with the minds of Casey and April during their visit, also temporarily transforming [[Rat King's Gas Station|an abandoned gas station]] and decaying motorcycle into working order, and at one point abruptly transporting Casey from the gas station to the trailer's door. With Aka also anticipating Casey and April's visit to her own thin place, this leaves the trailer's true nature uncertain.

+

* Technically, it cannot be assumed that Aka's trailer is a location occupying normal space, as Aka's visiting brother, the Rat King, was also playing with the minds of Casey and April during their visit, also temporarily transforming [[Rat King's Gas Station|an abandoned gas station]] and decaying motorcycle into working order, and at one point abruptly transporting Casey from the gas station to the trailer's door. With Aka also anticipating Casey and April's visit to her own thin place, this leaves the trailer's true nature uncertain.

 
 
 

== Gallery ==

 

== Gallery ==
---
Revision as of 03:03, 26 March 2018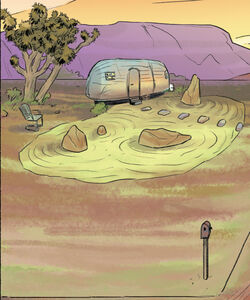 YOU'RE NOT ON 
 NICKTOONS 
 ANYMORE! 

Some TMNT stuff really isn't for little kids.
This article's title is conjectural and may be subject to change as new information becomes available.
In the IDW continuity, Aka's trailer is a mobile home and Zen garden located in the remote countryside of California's Mojave Desert in the Southwestern United States, the region Being the long-time home of Aka, the eldest surviving sibling of the Pantheon. The trailer is no ordinary trailer, as its door leads to Aka's own thin place, a pocket dimension of her own. The mailbox near the trailer is labeled "Red," which is the name Aka's brother the Rat King calls her.
April O'Neil and Casey Jones visit Aka's trailer and associated thin place during the miniseries Teenage Mutant Ninja Turtles: Casey & April.
Trivia
Technically, it cannot be assumed that the exterior of Aka's trailer is a location occupying normal space, as Aka's visiting brother, the Rat King, was also playing with the minds of Casey and April during their visit, also temporarily transforming an abandoned gas station and decaying motorcycle into working order, and at one point abruptly transporting Casey from the gas station to the trailer's door. With Aka also anticipating Casey and April's visit to her own thin place, this leaves the trailer's true nature uncertain.
Gallery
Community content is available under
CC-BY-SA
unless otherwise noted.