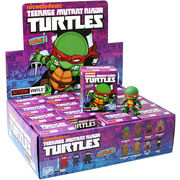 Action Vinyls are a series of collectible stylized figures based on the Teenage Mutant Ninja Turtles that was first released by The Loyal Subjects in 2015.
Wave 1
Description
This is The Official TLS Website's Description
COWABUNGA! From the pages created by Kevin Eastman and Peter Laird come TMNT! Heroes in a Half Shell! Named after famed Renaissance artists and spawned from mutations created by toxic ooze, the Turtles morphed into super hero ninjas, trained by a rat sensei named Splinter. The Turtles fight to clean up the streets of NYC from thieves and villains alike, most notably the dreaded Shredder. TLS developed our first Wave from the Comic Book Series - including some of the great comic book characters like Casey Jones and Karai.
9 points of articulation
STRONG ball joints (not intended to be interchangeable)
3" tall
Multiple accessories
Blindbox, Foil bag with character cards
Commons (2 per case of 16)
Including three chase figures - 1/24, 1/48 and 1/96
Designs by Joe Allard
Under License from Viacom, Inc. 2014
Licensed, Manufactured and Distributed by The Loyal Subjects, LLC
Another addition to our ACTION VINYLS Series
Ages 15 and Up
Wave 2 (unconfirmed)
External Links
Other Images
Community content is available under
CC-BY-SA
unless otherwise noted.