Scale has always been a problem with the Playmates Ninja Turtles action figures, Leatherhead, Dogpound, Snakeweed, Spider Bytez, great big characters that would turn out to be great figures if they didn't look so short next to the turtles. And as we know, Playmates has an 11 inch figure line, which includes different versions of the turtles and a Shredder, but no other characters. I think it would be genius if the good folks at Playmates expanded this line-up gving us two of the tallest characters in the nick series, Traag and Kraang Prime, in 11 inch form.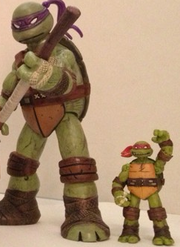 See that giant Donatello standing next to basic Mikey? Seriously, wouldn't it be great if we had a Kraang Prime/Traag figure this big?
I've sent a message to Playmates facebook page about this, and I think if everyone did this they would at least consider expanding the 11 inch line.
C'MON DUDES! do it for the good of our collections, do it before they give more tiny basic figures.